Commercial Recreation Specialists, the inventor of the water-based family entertainment center, or WBFEC, concept has seen a significant uptick in the WBFEC category. From private companies to municipalities, this concept has proven to be a winning combination. This is evident in an October 17, 2017 article on nwi.com written by Paul Czapkowicz, a Times Correspondent. In his piece  entitiled, "Whiting WhoaZone water park saw over 20,000 people in its first season; city plans to expand next summer", Czapkowicz interviews Whiting Mayor, Joe Stahura on the impact the WhoaZone had on the area and touts the success of the WhoaZone at Whihala Beach. You can see the original story by clicking above, or read on below: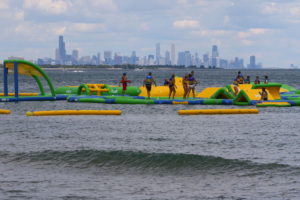 Attendance figures are in for the first year of the WhoaZone experience at Whihala Beach, and Mayor Joe Stahura said they are much higher than he anticipated.
"When you do almost 21,000, that certainly was a pleasant surprise," Stahura said.
The exact number of patrons according to the city's operational report was 20,662 from the opening date of June 24 through the end date of Sept. 4.
A total of 19,702 patrons tried out the Wibit floating water park and 960 participated in paddle sports.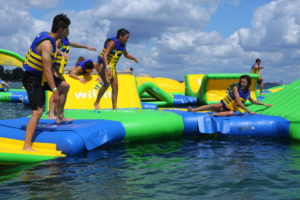 Most of the patrons (14,638) were from Illinois, a fact that did not surprise Stahura. "We knew we'd bring people here from outside Whiting," he said. "We didn't know how far they would travel. I think almost 13 percent traveled 90 miles or more."
Stahura said the goal was to bring in outsiders who would spend time in the city's business district and there were about a dozen days when there were not enough parking spaces to accommodate visitors.
Read the full article at nwi.com.
GALLERY