Verona, WI – Natural waterfronts across the nation are broadening their appeal with Water-Based Family Entertainment Centers  or WBFECs—a move that has not only added revenue, but has also helped enhance the surrounding communities.
"Waterfront assets are often the most valuable areas of a property and developing them into WBFECs is the best way for owners to leverage those assets," says Ron Romens, President of Commercial Recreation Specialists (CRS), a company that specializes in waterfront development and pioneered the WBFEC concept. "A combination of inflatable water-based play, beachfront seating, and shade provides an immediate 'wow' factor, and also offers the greatest dividends for the fewest dollars."
The WBFECs Romens speaks of are the latest trend for small- to medium-sized waterfronts and municipal recreation areas that may have lost some of their appeal to nearby waterparks or other more exciting competition for family time. The goal of a WBFEC is to create a destination that is both fun and comfortable for the whole family, while staying within the owners' budget constraints.
Colorful modular inflatables and other highly visible amenities are the main attractions, which, in turn, feed other revenue-bearing amenities such as boat rentals and concessions. As a result, waterfronts that had lost their appeal become important assets once again, as demonstrated by the following examples:
Just a few years ago, Stoughton's swimming pond was a declining "mud hole," as area locals affectionately called it. Competition from large regional water parks left little interest for what was once the community's prized aquatic recreation facility. CRS changed all that when they brought in and set up an inflatable challenge course for a free community fun day.
"The people just loved it," says Tom Lynch, recreational director for the city of Stoughton. "We were able to see what this would be like if we purchased the inflatables. We used this to help us pass our budget."
Park officials also added amenities such as shade structures, lounges, and a concession stand, making Troll Beach an appealing destination for locals and out-of-towners alike.
The result? "Within one summer we doubled our attendance and quadrupled our revenues," says Lynch.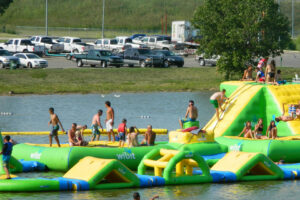 "We initially thought about adding a waterpark," says Al Sahli, owner of the campground. "But since we have shoreline on Lake Eufaula, which is the largest in Oklahoma, we decided to emphasize that."
As much as people enjoy the natural elements of sand and water, Sahli believes they are also looking for more action. They enjoy the fun and excitement the water inflatables, boat rentals and other water activities provide.
"Our guests come back every year and expect to see new inflatable pieces," says Sahli. "Since we started our business in 2008, we've actually doubled our attendance. Last summer we had 25,000 guests."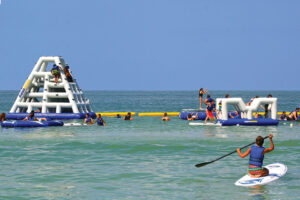 "We have a lot of the same guests coming back every year and we're always trying to come up with new and exciting things," says Travis Johnson, senior vice president of Trade Winds. "Our thought was, 'we don't have the real estate to develop a full scale waterpark, but what if we float one right on the water?' Now we have the area's first floating waterpark."
Trade Winds offers its inflatable water park seasonally, from March through October, during which time it brings added interest to the resorts' other attractions such as fitness, golf and water sport activities.
"About 30 percent of our market is corporate group meetings and they use the inflatables for team building activities, such as beach Olympics," says Johnson. "However, most of our rentals are for family activities like birthday parties. Different pieces appeal to different folks. We'll see mom, dad and the kids leisurely floating on an Airport Floating Lounger, and then we'll see more adventurous groups rocking and rolling on the Aquaglide Rockit."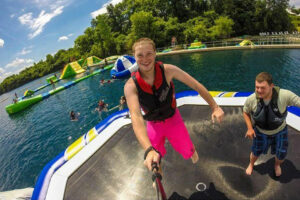 "The LIVESTRONG Foundation sponsors the event," says Stuart Schooley president of Dutch Springs. "By hosting it, we get a lot of coverage, both TV and newspaper. It's a huge promotional benefit for us in all areas of our park."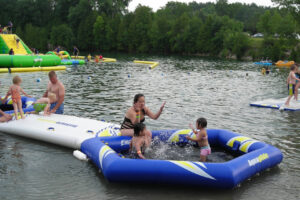 What makes Quarry Beach's first summer most notable is how much it thrived in the midst of challenge. According to on-site manager, Monica Garbisch, the city of Sheboygan issued requirements that necessitated a late start. "On top of that, it was a cool summer," says Garbisch, which made the conditions less than ideal for measuring the location's true potential.
All things considered, Romens, of CRS, was thrilled with the location's initial success. "Families came from communities throughout the state—Milwaukee, Manitowoc, Green Bay. They even came from out of state," says Romens. "Most encouraging, Quarry Beach paid for itself in its first summer."
"Quarry Beach has had a long history as a place to come swimming, but adding fun activities for the whole family has generated so much more excitement," says Garbisch. "CRS' development of the adventure park has certainly benefitted the entire community."