Verona, WI – As the wave of popularity swells for Stand Up Paddleboarding, Commercial Recreation Specialists (CRS) is excited to announce its new Wibit SUP Docking Station.
An on-water parking area for Stand Up Paddleboards (SUPs), the SUP Docking Station debuts as an innovative storage solution that is fun and inviting to SUP users. By moving the boards off the beach and into the water, The DockingStation provides beginning SUP users an immediate on-water feel before even leaving the dock. For the more advanced user, the station provides a progressive training platform for SUP exercise classes and on-water yoga.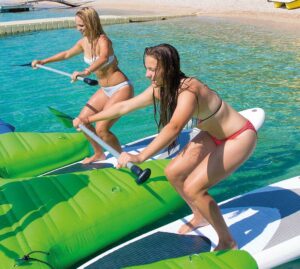 "At first glance, the SUP Docking Station is an attention-getting piece that adds splash to the waterfront," says Andy Berens, Channel Manager for CRS. "But for the waterfront operator, it brings so much more. It provides marketing impact as a colorful point of sale, speeds up the SUP rental process and preserves the life of the board by eliminating damage from dragging them over the ground."
The 13'W x 49'L SUP Docking Station consists of a Sun Shade to protect staff from all day sun exposure, two Ramps and two SUP Docks. It has parking space for a total of eight SUPs, but its modular design allows the SUP Docking Station to be easily extended to hold as many boards as desired with additional SUP Dock sections. Best of all, the SUP DockingStation can be used as a standalone piece or in conjunction with other Wibit inflatables, making this a dynamic addition for any location.