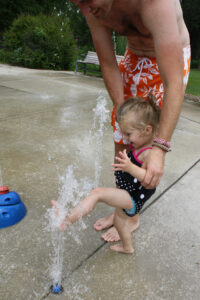 Middleton, WI – Commercial Recreation Specialists (CRS) recently partnered with the city of Middleton, Wis. to complete Phase 2 of a 3,400-square-foot Splashpad in Lakeview Park, according to Ron Romens, President of CRS.  The project began in summer 2008 when the city worked with landscape designer Schrieber/Anderson Associates and CRS, who supplied water features manufactured by Vortex Aquatic Structures, and provided technical consulting services and training. One of the highlights of this Splashpad design for Penni Klein, city of Middleton public lands manager, was Vortex's SafeSwap technology, allowing them to make gradual additions as their budget allowed.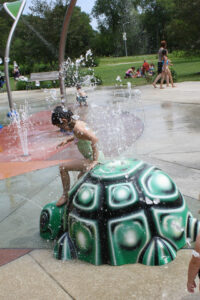 Initially, a Turtle and three Vortex Water Garden play features were installed, along with the capacity for seven additional water features.  The first phase also included installation of a Ground Geyser, Misters, Mini Water Tunnel, interactive Power Launch Pod, Water Jets and Aqua Jumpers.  According to Klein, the Splashpad has been used extensively by families with young children and because of increased demand, hours were quickly extended to keep the Splashpad open until 8 p.m. daily.  This success quickly convinced Klein to proceed with Phase 2, replacing SafeSwap ground sprays with a Flower, Tot Mister and Aqua Dome. "As we add features, our Splashpad's programmable system allows us to create new, interactive sequences keeping the guests' experiences fresh all summer – and year after year," said Klein.
"We continue to see a variety of municipalities include Splashpads as part of facility updates as well as incorporating them into new park projects," said Romens.  He continued, "At Lakeview Park, the Splashpad is integrated into the overall park design and requires no fencing or staff, making the total cost of ownership lower, when compared to a wading pool or full-sized pool facility."  In addition, Splashpads offer better play value for people of all ages and abilities; and provide opportunities for multi-generational play.  Many of the Vortex features are not only fun, but also foster cooperative play and motor skill development.