In the March 2017 issue of Woodall's Campground Management magazine, Justin Leighty has a great piece about "Parks Adding Recreation Equipment to Draw More Guests and Boost Revenue." In the story, Leighty talks with our own Shannon Brower about how more campgrounds and RV parks are shifting to become destinations with the incorporation of recreation equipment that increase guest satisfaction and lengthens stays. You can see the original story by reading below or clicking on the magazine cover image:
"A campground used to be a stopover point, now they realize they want to make it a destination — more camper nights, more reservations, more extended stays," says Chuck DeCaro with Emerald FX.
As more and more campgrounds and RV parks shift to becoming destinations in their own rights, many owners turn to recreation equipment to increase guest satisfaction — and the length of their stays.
Zachary Bo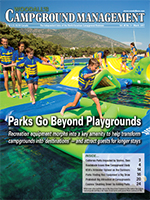 ssenbroek, CEO for Northgate Resorts, a Grand Rapids, Mich.-based firm, said nearly every one of his company's nine RV parks nationwide — eight of which are Yogi Bear's Jellystone Park Camp-Resorts — have some sort of water feature. And the ones that don't will soon have them, he added.
"Of all the things you can do to help kids maximize their play — there's a whole science to this — the water parks that we put in are intended to give kids optimal play," Bossenbroek said. "They're very interactive, and the kids can dictate who they're going to be shooting water at. Maybe when mom and dad get too close to the water park, the kids will hit a detonator that sprays water onto their unsuspecting parents.
"Those are the kinds of things that keep kids busy all day long and, all of a sudden, it's 5:00 and they wonder where the time went," he continued. "They sleep well that night, too, and I'm speaking from experience because my kids have been there and you don't hear a peep when their heads hit that pillow."
Mark Aragona is owner of Wizard Works Product Development Corp., a water-equipment provider to campgrounds, and he's seen more and more campgrounds get away from a one-night-stopover mentality. "This is a vacation. It's not a place to stop if you're on the way somewhere, this is a destination, you're going to these family resorts for the summer, this is your vacation.
"For instance, Jellystones thought, 'We could get a lot of mileage ramping up what used to think of as camping and bring it into the 21st century,'" Aragona continued. "They have these cabins, you can rent a cabin and it's camping. You have a fire pit out there, you can roast hot dogs, and it's still camping. RVs are getting fancier.
"I also think the economy since the crash of the stock market fed very well into the campground market. People are not going to be cheated out of their summer vacations. They're going to find a way to have a vacation. What's more economical than camping?"
And so, he suggested, campground operators have made investments to keep people coming. "Upscale camping venues are saying hey, if we provide a higher level of entertainment, people will stay longer and our occupancy will go up."
Shannon Brower said Commercial Recreation Specialists, too, has seen growth across their recreational product lines thanks to the changes in the market. "We've really seen some shifts geared toward making campgrounds more family friendly, offering the types of products that are appealing to multiple age groups. They want to make sure everyone's entertained so they want to stay and play longer," she said.
"Campers are looking for a little more active recreation, where in the past it was a little more passive. As families are becoming a little more active and are looking for things to do, that's where they're wanting to bring more active equipment in. Park owners are expanding into offering more amenities for families. They're really trying to hit on the multigenerational appeal," she said.
Read the full article at Woodall's Campground Management.