Wisconsin's Commercial Recreation Specialists Designs 'Wow-Factor' Attraction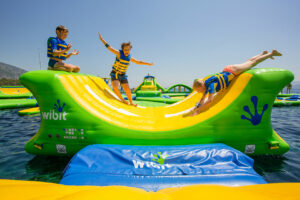 VERONA, WIS. — Northwest Indiana and the Chicagoland area will have a new summer destination this year: The Whoa Zone at Whihala Beach in Whiting, Ind. The water-based family entertainment center on the shores of Lake Michigan will be the first of its kind and is scheduled to open this June.
The Whoa Zone at Whihala Beach, a public-private venture, was custom-designed by Wisconsin-based Commercial Recreation Specialists (CRS) and is among the first generation of aquatic recreation parks that include giant slides, towers, trampolines, ramps, wiggle bridges and other play features that comprise a large floating obstacle course for all ages and abilities. Think American Ninja Warrior meets Wipeout.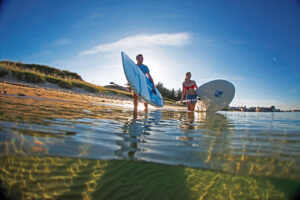 The facility, which also will include stand-up paddleboards, kayaks, beach cabanas, chairs and more, is nestled in the northwest corner of Indiana about 15 miles south of downtown Chicago, and it will be the first attraction of its kind on Lake Michigan.
Whihala Beach is already recognized as an iconic nature-based summer activity area, and the Whoa Zone at Whihala Beach will significantly increase the destination's "wow factor."
CRS — a Verona, Wis.-based company specializing in the development of open-water recreation activities and attractions — designed the Whoa Zone at Whihala Beach featuring products manufactured by Wibit Sports, a respected global leader in inflatable water-play equipment. CRS is the exclusive U.S. distributor of Wibit products on open water.
For more information about Commercial Recreation Specialists, Wibit Sports and Whoa Zone development, visit crs4rec.com.