In the July 7, 2015 issue of RV Daily Report, Greg Gerber has a great piece highlighting Commercial Recreation Specialists. In the story, Gerber talks with our own Ron Romens about how campgrounds can attract more guests and increase sales. You can see the original story by clicking above, or read on below:
VERONA, Wis. — How can a Wibit, Wedgie, Zulu, Iceberg and Jungle Joe 2 help campgrounds attract more guests and increase sales?
Just ask the experts at Commercial Recreation Specialists (CRS), a company founded by Ron Romens in 1999 to transform the outdoor hospitality industry. At CRS, they're serious about fun.
Today, whether it's a massive floating playground, or an attraction like a splashpad, playground or miniature golf course, CRS works with campgrounds and RV parks to best understand their goals and utilize whatever space they have to create experiences that keep families coming back.
"In much of the country, the camping season is relatively short, so we want to help campground and RV park owners make the best of what little time they are open," said Romens. "For many parks, access to water is the big draw for guests. Water attractions are often cited by guests as the reason a park is 'recreation friendly.'"
Any campground with access to a pond, lake or river can take advantage of CRS' water recreation products. Even those without existing water access can create it using "water based family recreation center" concept.
The company will help parks develop an income stream to recover the investment costs and provide ongoing cash flow for the business.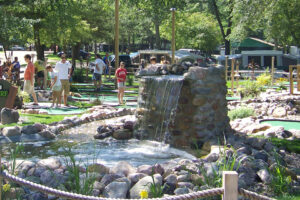 "We work with owners to use whatever existing assets the campground has to enhance the camping experience and offer families a reason to make return visits, whether it is every weekend or once or twice a year," he added.
"I have five children and I know what it takes to engage them in activities that not only keep their attention, but wear them out," said Romens. "Campgrounds are faced with the need to develop activities that pull kids away from technology and actually make them want to get outside and play. Once engaged, the kids love it and beg their parents to come back to the campground," he added.
Creating a business model
The staff at CRS works with campgrounds to help them develop a business model that will support the investment costs and help get the most bang for the money spent. They recommend admission prices and can show campgrounds other ways to enhance their revenue.
Best of all, CRS can work with any budget. So, if a campground only has a small budget to work with, it can develop a plan to add an attraction or two each year until the campground creates a full-fledged recreation area.
Those campgrounds that really want to attract families can develop a "family entertainment center" that not only includes a water park, but mini golf, a splashpad or playground equipment.
Read the full article at RV Daily Report.