Verona, WI – When directors at YMCA of the Rockies began thinking about upgrades to their Colorado family vacation and conference centers at Estes Park and Snow Mountain Ranch, they knew the 1960s-era miniature golf courses would have to be a big part of the plan.
According to Julie Watkins, who serves as vice president for the association's advancement, "as a non-profit organization, we were going into a capital campaign to raise funds for various projects. Our mini golf courses were a high priority because of their appeal to our guests."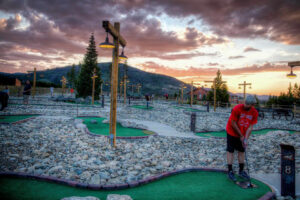 Given the unique geographical characteristics of the two different locations and the extreme weather constraints, such a project presented big challenges.
That's when Commercial Recreation Specialists (CRS) of Verona, Wisconsin first stepped up to the green. CRS worked with the centers from the beginning to determine a realistic budget, develop custom theming that enhanced each location's unique character, and generate professional renderings to garner interest in and financial support of the capital campaign. "Working with CRS was a smooth process," says Watkins. "We provided a vision and they made it happen."
CRS and YMCA of the Rockies teamed together to develop detailed plans for two custom-themed, ADA-approved, 27-hole miniature golf courses, specifically designed to fit the topography and personality of each location. Each center's course included a 9-hole toddler course with bigger cups and easier obstacles, and a more challenging 18-hole course for older children and adults.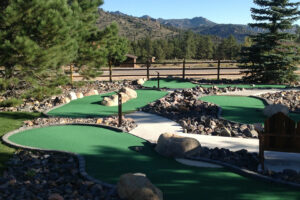 After plans were finalized and funding approved, CRS completed the courses in just three weeks for each location—Estes Park Center in May and Snow Mountain Ranch in June of last year. "At 9000 feet in elevation, they have long winters and short summers," says CRS principal Rich Wills. "We had to coordinate the installation between weather concerns and adjust the construction materials to accommodate dramatic temperature changes."
And how do YMCA guests like the new courses? "They love them," says Estes Park grounds maintenance supervisor Kelly Wilkerson. "Last summer our guests played 41,000 rounds in three months. That's a lot of golf!"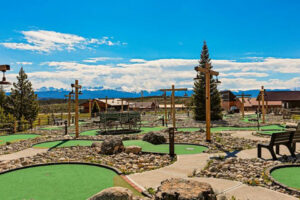 The new courses have done more than bring adventure to guests—they are helping YMCA of the Rockies fulfill one of its major goals, that of bringing families together. "Three-year-olds to 90-year-olds can play these courses," says Wilkerson. "Families are spending time together and they come back day after day."