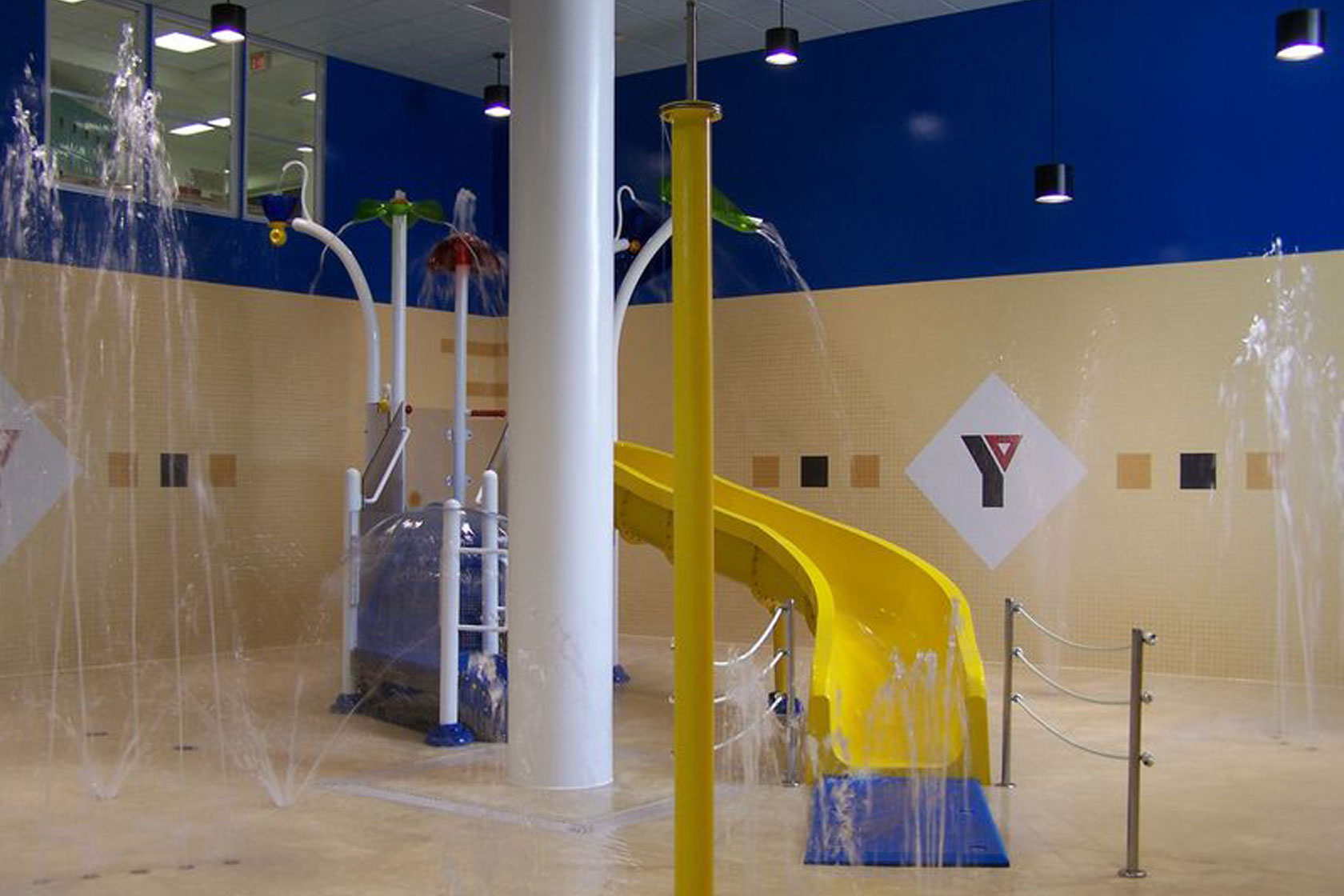 Appleton, WI – Commercial Recreation Specialists (CRS), Aquatica and the YMCA of the Fox Cities completed a 1,980-square-foot, indoor Splashpad at the YMCA at 218 East Lawrence Street, Appleton, Wis., earlier this year, according to Ron Romens, president of Commercial Recreation Specialists.  ""Through surveys and focus groups, our team recognized the need to focus on families and the health and wellness of adults and youth as we planned for renovation of our facilities.  We took two wellness programs in former racquetball areas and combined them into one racquetball area (now comprised of 2 floors) in order to have space adjacent to our existing pool for a fun, inviting splash pad area for families with young children," said Carol Peterson, executive director of the Appleton YMCA.  The Splashpad opened in June 2008 and has already served hundreds of Appleton families.
The centerpiece of the Splashpad is a Vortex Elevations multi-level slide structure, including ten interactive water play elements, constructed using post and platform structures with a variety of water toys attached.  The Splashpad also incorporates independent play features like Ground Geysers; and a Team Spray and Rising Flag, which are interactive pieces that encourage group play.  Aquajumpers that appeal to many ages and abilities are also included.  These features are not only fun, but also teach important skills such as cause-and-effect leaning, cooperative play and motor skill development.
Aquatica of Sheboygan, Wis., provided design and engineering services for this project, including a glass wall separating the Splashpad and pool areas, a water recirculation system; and an HVAC system customized for the small space, providing a new air supply for the area every three to four minutes.  CRS was the Vortex product supplier; and provided training and extensive follow-up services to ensure the Splashpad met the YMCA's needs exactly as planned.
The YMCA builds strong kids, strong families, strong communities. The YMCA of the Fox Cities serves more than 47,000 community members through vital services such as membership and programs. Our mission is to put Christian principles into practice by promoting youth, adult and family activities that build a healthy spirit, mind and body for all. For more information, contact the YMCA of the Fox Cities at 920-886-2124 or on the internet at www.ymcafoxcities.org.