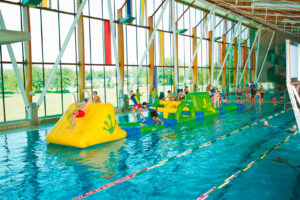 Verona, WI – Commercial Recreation Specialists (CRS) announces immediate availability of the Wibit line of challenge-course aquatic play products, suitable for pool or waterfront, according to Ron Romens, president of CRS.  Modular, commercial-grade inflatable components –such as balance beam, high jump, slide and bridge–quickly and easily connect and disconnect, creating nearly endless challenge course possibilities on the water. The Aquatrack and AquaArena preconfigured circuits quickly turn any pool or waterfront into an Aquagames challenge course where teams can play and compete in a wide variety of configurations.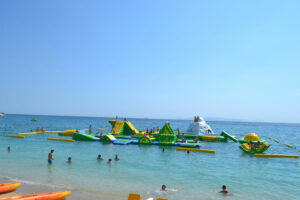 A complete Wibit Aquagames kit is also offered, providing all the tools needed for exciting and fun water competition.  When the contest is over, competitors can post their results online, competing against other Aquagames participants from around the world. "This type of real-time, global competition really grabs attention – especially from kids – and makes them want to come back for more," said Romens.  Family-friendly competition, pool championships, team building and neighborhood challenges are only a few of the possibilities for aquatic challenges with the Wibit line. These types of activities typically result in an increase in attendance, additional revenue and growth in membership.
Individual aquatic challenges are also available with Wibit's AquaDuell and Kayak Polo products.  Host an individual Kayak Championship, create team challenges with a Kayak Polo tournament, or design your own Aqua Gladiator competition.