Verona, WI — Northwest Indiana and Chicagoland residents will have a new MUST-VISIT attraction this Summer – a floating playground named the WhoaZone.  Designed for people of all ages, the WhoaZone at Whihala Beach features an on-water, ninja-style obstacle course that will have beach-goers splashing, bouncing, jumping, and even wiping out, all while enjoying the day on beautiful Lake Michigan at Whiting, Indiana's Whihala Beach.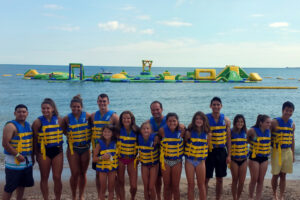 "We are very excited to open the very first WhoaZone here in Whiting, Indiana", says Ron Romens, president of Commercial Recreation Specialist and Empire Recreation Management, the two companies that have designed and will manage the facility. "The WhoaZone features a massive Wibit Sports Park, which have been installed at hundreds of beach locations around the world and have proven to be highly entertaining", Romens adds. "Imagine giant slides, towers, trampolines, ramps, wiggle bridges and other play features all combined to create a large floating obstacle course for all ages and abilities". He continues, "Think Aquatic Ninja Warrior meets Wipeout".
The WhoaZone will operate 7 days a week from 10:00 AM to 6:00 PM and officially opens June 24th.  The park is located at Whihala Beach at 1561 Park Road, Whiting, Indiana in the northwest corner of Indiana about 15 miles south of downtown Chicago.   The WhoaZone will also feature stand-up paddleboards, kayaks, beach cabanas, chairs and more. Tickets cost $20 per session and can be purchased online by visiting www.WhoaZoneWhihala.com. Multiple session, and early-bird discounts are also available.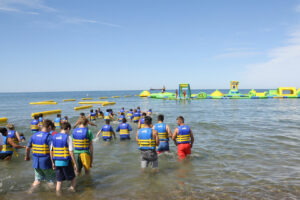 Whihala Beach is already recognized as an iconic nature-based summer activity area, and by adding Wibit to the waterfront, the WhoaZone at Whihala Beach significantly increases the destination's "wow factor" and will provide hours and hours of fun for people of all ages.