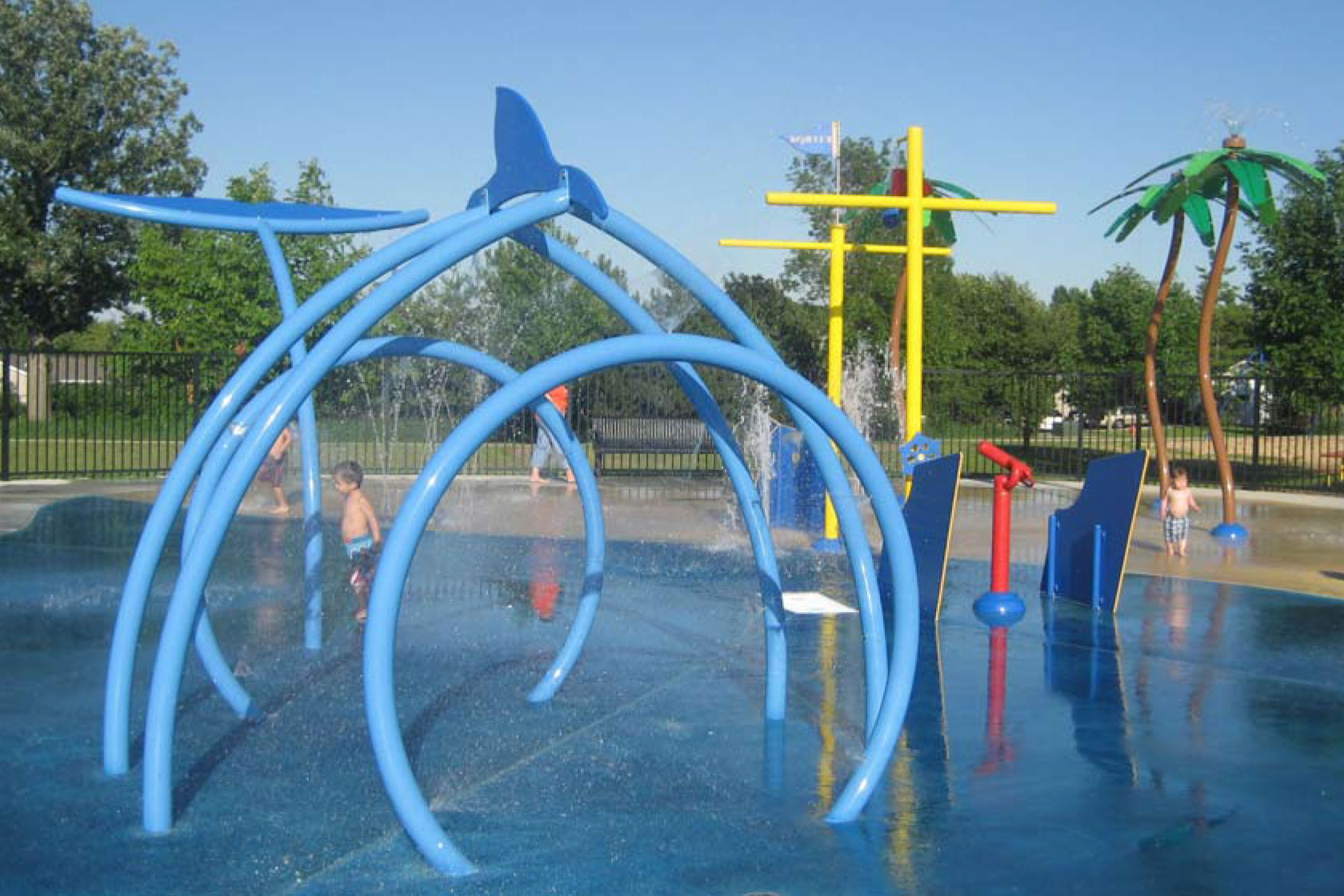 Jackson, WI – Commercial Recreation Specialists (CRS) recently coordinated the installation of a 2,355-square-foot Splashpad at Hickory Lane Park in Jackson, Wisconsin. According to Ron Romens, President of Commercial Recreation Specialists, CRS provided consulting services, training and technical support. CRS also supplied water features manufactured by Vortex Aquatic Structures and a shade structure manufactured by Shade Systems, Inc.  Bill Rollins of Aquatica Design, LLC acted as the aquatic design consultant for the project.
"Constructing a Splash Park facility afforded Jackson a top-notch and reasonable aquatic opportunity for a small community of less than 7,000 residents," said Kelly Valentino, CPRP Jackson Jt. Parks & Recreation Director. She added, "The cooperation and teamwork among the parks & recreation, public works, and water utility departments made this a truly special project not only for the staff of the Village of Jackson, but for the community as a whole."
According to Valentino, the Jackson Splash Park at Hickory Lane Park exceeded all expectations  in the first summer of operation.  Within the first 10 weeks of the park's début, the Village Board approved adding a second patio area covered with a Shade Systems cantilever canopy, also provided by CRS.  Valentino said, "Moving so quickly to make an addition is an action that speaks louder than words for the overall success of the project and it also speaks well for the businesses that provided the products."
The Jackson Splashpad offers a zero-depth aquatic solution that combines the sensations of different water effects – flowing, misting and jetting – suitable for a variety of age groups and abilities. This Splashpad also includes a fully recirculating water system.  Creating a theme was important for the Village of Jackson, and Valentino felt the quality and uniqueness of the Vortex products helped achieve that goal.  The Hickory Lane Park Splashpad was designed around a beach theme with spray features including wavy palm trees, a whale surrounded by geysers, a schooner with a dumping bucket and water cannon, and water jelly ground features. In addition  to being open to the public daily, the Splash Park and shade structures are also available for  private party rentals.