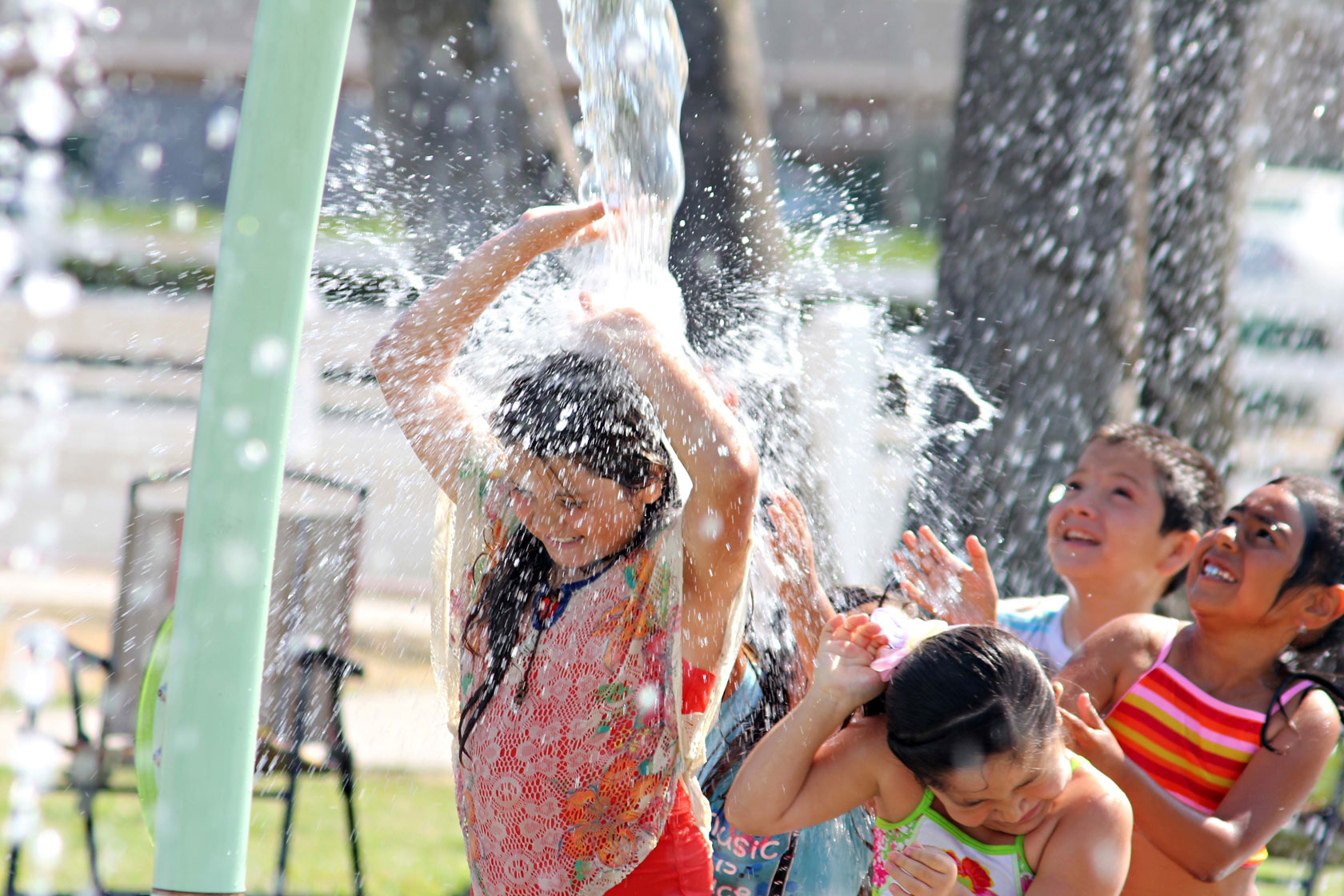 Verona, WI – Water play is an important form of recreation for New Jerseyans and when they can use it to revitalize their parks and economy it's even better. That's exactly what two New Jersey communities did when they collaborated with Commercial Recreation Specialists (CRS) to enhance their municipal parks with Vortex Splashpads®— zero-entry water play areas that spray, shoot or mist water from colorful domes, hoops and a myriad of other fun features. Adding to the excitement is the realization that Splashpads have increased safety, sustainability and revenue for the whole community.
Along the Hudson River, the borough of Fairview took what once was an underused street hockey rink and transformed it into an exciting new multi-generational spray park in its Columbus Park.
"The Columbus spray park is part of a bigger overall project of redeveloping our park," says Berge Tombaklakian, of Boswell Engineering, who serves as an engineer for Fairview. "Part of the space that once was the hockey rink is now the spray park. On the other part we installed two bocce courts, tables and seating. Now people of all generations can enjoy this area."
In creating the 1805-square-foot Columbus Spray Park, CRS collaborated with Boswell Engineering to design two splashing pods that together have three zones individually designed for families, teens and toddlers. Because Splashpads are flat, concrete surfaces with no standing water, children of all ages can safely enjoy the interactive sensation of varied water movements, even without a lifeguard on duty.
"When there's water standing more than a few inches, insurance companies require a lifeguard to be on staff," says Tombaklakian. "The zero depth of the spray park is much safer for toddlers and it eliminates the cost and time for park departments needing to hire lifeguards."
The Splashpad also utilizes a specialized Water Quality Management System for recycling the water and monitoring chlorine and pH. This brings even more safety and savings to the community.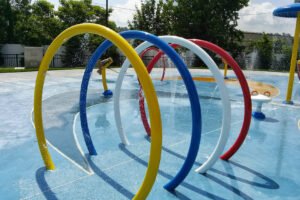 Just south of Fairview, the Township of North Bergen worked with CRS to replace its outdated spray park with an exciting new Vortex Splashpad. Impressively, the project came in under budget—a rarity these days in municipal planning.
"We budgeted $300,000 and our course, all in, was about $275,000, including architectural engineering and everything," says North Bergen Business Administrator Chris Pianese. "The Splashpad has been well received, it's working well and we're thrilled to open it up."
Working with CRS on North Bergen's 3,838-square-foot Splashpad was Remington & Vernick Engineers, of Haddonfield. Together, they formulated a design that uses stainless steel features and a sustainable system of recycling water. This plan offers the community a more durable and environmentally friendly water park, which means safer splashing fun for the whole family, year after year.
"If you look at the features we've chosen, everything is low to the ground and is all metal based, so its not something that's going to break easily like what we had before," says Hugo Cabrera, who serves as commissioner of parks for North Bergen.