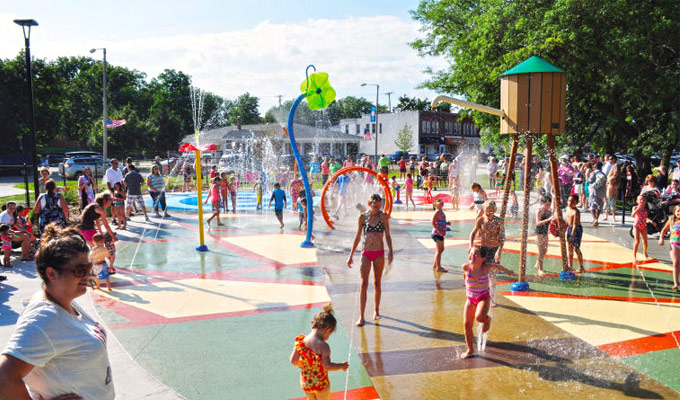 Milton, WI – When the City of Milton, Wis., formulated its Goodrich Square Plan, the primary objective was to enhance the historic square as a business district, visitor destination and community gathering space. Last year, the city realized the first of these goals when, together with Commercial Recreation Specialists (CRS), it opened the Goodrich Square Splash Pad.
"This is a strong first step in the redevelopment of Goodrich Square as a focal point of recreation and commerce in the City of Milton," says Milton Mayor Brett Frazier.
The 5,396-square-foot Vortex Splashpad® is a flat, concrete-surfaced recreation area that sprays, shoots or mists water upwards from geysers and jets in the raindeck and downward from oversized, spinning flowers, a water tower and other fun features. Because there is no standing water, the "zero-depth" pad eliminates the need for a lifeguard and children of all ages can enjoy the interactive sensation of varied water movements.
Also working with CRS on the project were architects from SAA Design Group, of Madison, Wis., who custom designed the Splashpad's theme to coincide with the city's longstanding railroad history. The design also includes 10 water features on three spray-pad areas, each unique to a different age group.
The Goodrich Square Splash Pad is the culmination of years of planning and fundraising by the community.
"This is a project that has only been possible because of the efforts of our entire community. From businesses, to citizens young and old, to elected and appointed officials and everyone in between, this has been an example of the strong sense of community that makes Milton special," says Frazier.