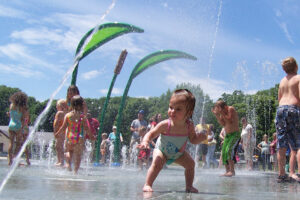 Verona, WI – Commercial Recreation Specialists (CRS) recently coordinated installation of a Splashpad at Regner Park in West Bend, Wisconsin.  The lily pad shape and nature-oriented theme of the Splashpad includes frogs, cattails and water leaves, and was designed to complement the existing park area, which includes West Bend's only outside swimming facility, the pond at Regner Park Beach.  "This park has been part of the recreational landscape here for generations and is celebrating its 75th anniversary this year," said Craig Hoeppner Director of Parks, Recreation & Forestry.  He continued, "We believe this Splashpad will bring the next generation of West Bend families to the park because it was the right combination with the existing sand beach at the park.  It also provides an exciting water element for kids, without the construction and maintenance costs associated with a pool."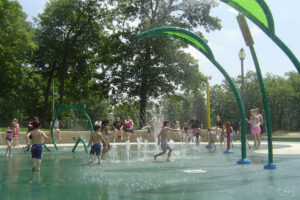 CRS provided technical consulting services and supplied water features manufactured by Vortex Aquatic Structures for the Rotary Splashpad, which is approximately 3,260-square-feet and includes a spray zone area of 2,065-square-feet.  One unique feature of this project is that the water is dual-purposed, making it more friendly to the environment.  An on-site well was already supplying the adjacent pond and now that water first flows through the Splashpad, which taps into a city water source only as needed.  Hoeppner said, "This approach made perfect sense for our location, rather than incurring the cost of a recirulating Splashpad."  Another unique feature of this Splashpad is that a single piece of equipment, the Vortex Command Center, was engineered and programmed to control both water sources, simplifying the operations.
Splashpads offer a zero-depth (no standing water) aquatic solution that combines the sensations of different water effects – flowing, misting and jetting – suitable for different age groups and abilities.  A variety of in-ground and above-ground features are included in the Regner Park Rotary Splashpad such as a Ground Geyser, Water Jelly, Bucket Trio and Water Tunnel.  The Rotary Splashpad is open from 12:00 p.m. to 5:00 p.m. daily, weather permitting.  A wristband, which can be purchased in the bathhouse, is needed for entry and proper swim attire is required.