Verona, WI – When officials from The Salvation Army Eastern Territory decided to upgrade the playground equipment at eight of their youth camp properties and one large community worship center in Puerto Rico, they knew they needed to work with a company that understood the importance of safety, as well as the importance of play.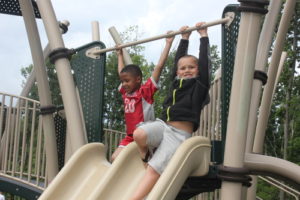 "Our first priority is the safety of the children in our care so it was critical that the new play equipment meet our high standards in that area but we also wanted to put a strong emphasis on fun," says Robert Jones, Assistant Risk Manager for the Eastern Territory. "We wanted the new playgrounds to be something different – we wanted to give the kids something that would really wow them."
With these priorities in mind, Jones contacted Commercial Recreation Specialists (CRS) of Verona, Wis., a provider of Xccent Play, a line of play equipment that specializes in promoting active, non-scripted play. Their revolutionary, moving equipment with ultra-safe polymer hinges is like a kid magnet, attracting kids of all ages and abilities to play and work together. Their many independent pieces are combinable and allow for flexibility in layout to accommodate different age groups.
These features were important to The Salvation Army. Each year thousands of children enjoy its summer camp programs and the playgrounds get a lot of use.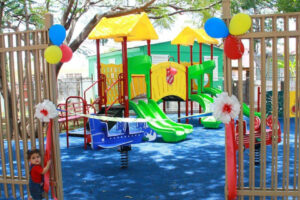 "We may have up to a hundred kids playing at any one time," says Jones. "It's also important that the playground equipment caters to a broad age range—anywhere from 7 to 14 years old."
To accommodate this diversity, CRS installed in each of the ten playgrounds a combination of Xccent's Triax curved, three-post deck systems, which included fun slides, challenging climbers and intriguing rooftops. They also installed independent pieces such as the X-Wave 2, an innovative see-saw that attracts groups of children to "ride the wave," or the Rock N' Rider, a momentum-building, muscle-testing, boat-like rocker. Camp Swoneky, in Oregonia, Ohio, added additional play elements from Playland and SportsPlay to their order, as well as waterfront pieces to enhance their lake recreation experience.
Because the youth camps are summer-oriented, timely installation of the playgrounds was another crucial factor. Knowing they had "a lot to do, in not a lot of time," CRS Principal Rich Wills dedicated the project to meeting its June 15 deadline.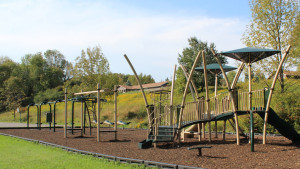 "We had worked with CRS in the past and had confidence in them," says Jones. "They came through, as usual. They coordinated the removal of the old equipment, helped us select our new playground pieces, and then installed them. They did this for ten playgrounds in two months' time."
So how do the children like the new playgrounds?
"They definitely had the 'wow' factor," says Jones. "The kids love them. We had an unbelievably positive response."