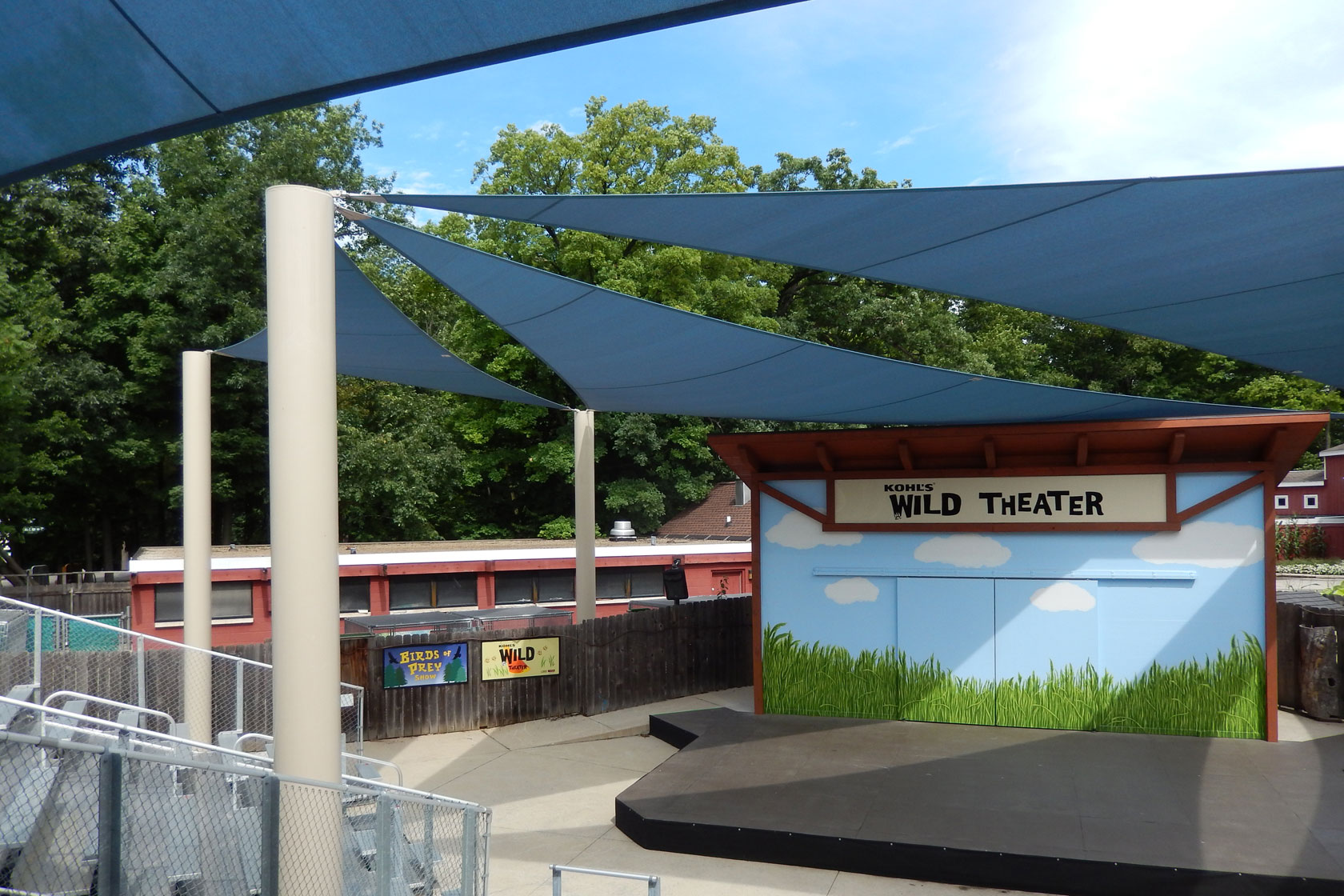 Verona, WI – Sunny summer days can be extremely hot and uncomfortable for zoo visitors, potentially shortening the time spent viewing outdoor exhibits. Thanks to the protection of a new overhead canopy from Commercial Recreation Specialists (CRS), bird fans at the Milwaukee County Zoo can now enjoy the show without the glare and heat of the sun.
"Our outdoor Raptory Theater attracts tens of thousands of visitors each summer and they had been sitting on aluminum bleachers exposed to the southern sun as they watched our bird shows," says Dr. Bruce Beehler, who serves as deputy director for this 200-acre zoo in Milwaukee, Wis. "We wanted to install something that would shade visitors, yet would not be obtrusive and take away from what people came to see—the bird shows. The structure also had to be easy to work with. Our new shade structure from CRS is everything we wanted."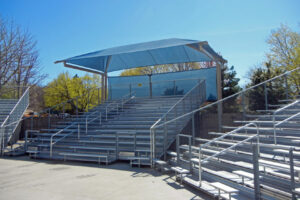 When Beehler approached CRS with the problem, the CRS team analyzed the many constraints of the existing theater and locale, while working with engineers from both the Zoo and the manufacturer to craft a solution. CRS designed a Shade Systems canopy that protects visitors from the heat of the sun and eliminates the glare. The canopy can also be easily removed during inclement weather, and is just as easy to put back up again if the weather clears.
The shade structure over the Raptory Theater bleachers has been up for a year and Beehler says it has been a great investment. "Before the shade, many people came by the theater but didn't stay, simply because sitting in the direct sun was too hot," says Beehler. "Now, they're sitting down, relaxing in the shade and enjoying the show. This is just what we wanted."
"Shade has become a necessary amenity for outdoor activities," says Ron Romens, president of CRS, a Wisconsin company that specializes in outdoor recreational products. "Our Shade System structures are constructed with CoolNet™, a high-density, polyethylene fabric that screens up to 99% of the sun's U.V. rays. They are built with a patented Turn-N-Slide™ system that makes installing and removing the fabric quick and easy. This is especially important during inclement weather conditions."