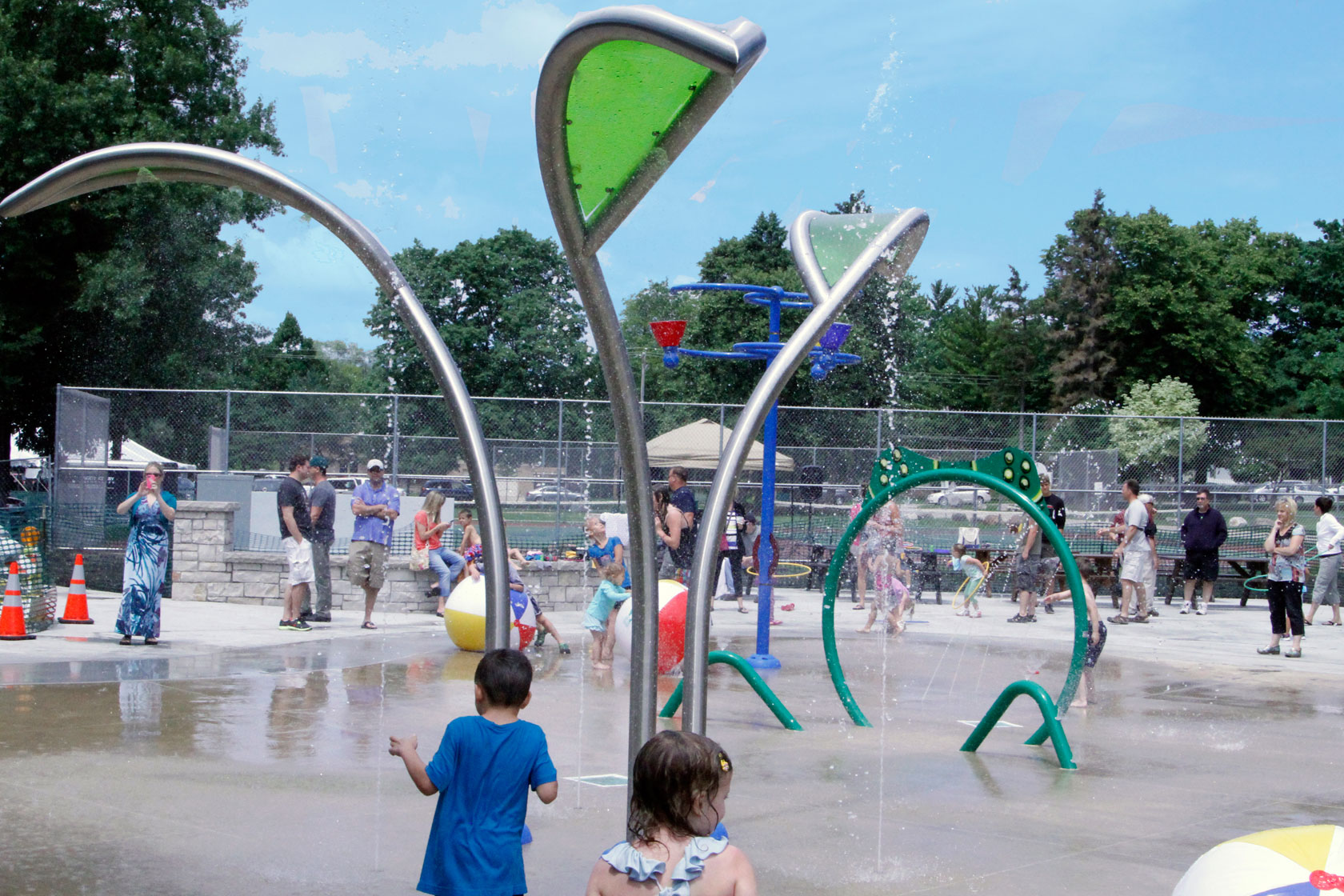 Verona, WI – Last year the Lake Country Rotary Club collaborated with Commercial Recreation Specialists (CRS) to install the Lake Country Rotary Splash Pad in Nixon Park in Hartland, WI. The first of its kind in Waukesha County, this splashpad fulfills the Rotary Club's dream of a multi-generational legacy that the whole community can enjoy.
"It brought fun for an entire summer to our already amazing park. It was great because the kids were in a safe and secure area, and parents could mingle or play if they wanted," says Rachel Reed, who writes for LakeCountryMom.com. "We are so looking forward to another summer with the splash pad!"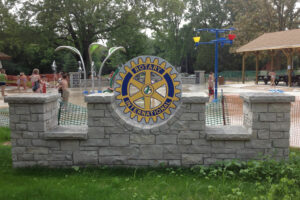 The 3,100-square-foot Vortex Splashpad® is a flat, concrete-surfaced recreation area that sprays, jets or mists water upwards from nozzles in the raindeck and downward from brightly colored palm leaves, frogs and other fun features. Because there is no standing water, the "zero-depth" pad eliminates the need for a lifeguard and children of all ages can enjoy the interactive sensation of varied water movements.
"Hartland's parks are among its finest resources," says Sasha Snapp, director of recreation for the village. In collaboration with the Lake Country Rotary Club, CRS designed the Splashpad to utilize a specialized Flow-Through system that filters the used water through a series of natural plantings before dispensing it into the nearby Bark River. This eco-friendly plan sustains natural resources, which is important to this community long known for its families and civic involvement.
The Lake Country Rotary Splash Pad is the culmination of years of planning and fundraising by the Lake Country Rotary Club, which included donations from a wide range of individual and corporate donors. Now that the project is complete, the Rotary Club has transferred its ownership to the Village of Hartford and the village's water utility provides the water. The Lake Country Foundation, an organization associated with the Rotary Club, will fund an endowment to pay for the Splashpad's continued maintenance. This is multi-jurisdictional cooperation at its best and is what makes the Lake Country Splash Pad the legacy that it is.