Are you planning for a playground? There is no better time to replace, refresh, or build an entirely new playground with the Healthy Kids Initiative! As a part of the Healthy Kids Initiative, your facility could have the opportunity to DOUBLE its budget to get the playground of your dreams! Apply here or contact us to learn more about playground planning and how to use the Healthy Kids Initiative for your dream playground.
Healthy Kids Initiative:
$5 MILLION* has been set aside to help facilities like yours create more inclusive play experiences for the youth. Through the program, your facility may qualify for a significant percentage match up to DOUBLE your budget. Therefore, your budget could stretch twice as far to get the engaging playground your facility has been waiting for.
| Your Contribution | Our Match (%) |
| --- | --- |
| $100,000+ | 100% |
| $99,999 – $25,000 | 65% |
| $24,999 – $5,000 | 45% |

Get your new playground by this fall:
With the fastest lead times around, your playground can be ready in just 6-8 weeks. This means you'll have your new playground in time for this fall! Get engaging structures like the NEW Parallax, Sun River, Panorama, Grizzly Bluff, and many more! Check out all structures here.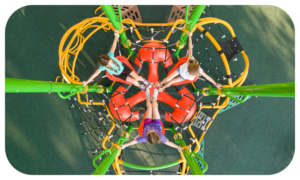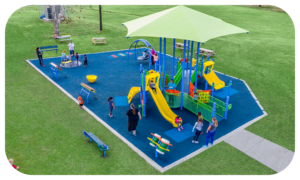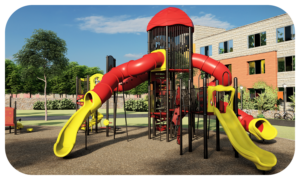 Did you know?
If you aren't already aware, playgrounds and outdoor classroom purchases qualify for ESSER Funding as they help implement guidelines of the CDC's COVID Mitigation Strategy:
Fostering 60 minutes of play and 

moderate-to-vigorous daily activity for 

school-aged children.

Furniture and equipment to

account for increased outdoor activity 

including 

Outdoor Classrooms.

Social, emotional, and m

ental health needs including

underrepresented subgroups such as 

children with 

disabilities.

 
MN Residents – Available on State Contract
Our SWIFT Contract No. 218097 makes purchasing your playground and outdoor classroom equipment through Commercial Recreation Specialists easy and stress-free.
How to apply:
Apply here or talk to a Recreation Specialist at 877-896-8442 to learn more about playground planning. This combination of funding opportunities is one you don't want to miss. So don't wait! The Healthy Kids Initiative runs now until June 30th, 2023.
*Funding applies to structures only. Product lines include: SuperMax, Duramax, Parallax, Totmax, Boulderscapes, Horizons, and Skyline. Cannot be combined with other offers. Applications must be received by June 30, 2023. Qualified customers will receive a voucher valid until September 29, 2023. Orders must be available for immediate shipment. Does not include tax, freight, surfacing, or installation.