Commercial Recreation Specialists (CRS) is very proud to announce that the CORCL won 'Honorable Mention' in the Red Dot 2018 Product Design Awards, one of the world's most prestigious design competitions. Only products that show a well-executed aspect of design work win. In 2018, designers and manufacturers from 59 countries submitted more than 6300 objects to the competition. True to the motto "In search of good design and innovation," a jury comprised of 39 members assessed the products individually. The strict judging criteria, which includes level of innovation, functionality, formal quality, ergonomics and durability, provide a frame of reference that the jurors then complement with their own expertise.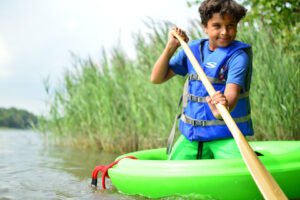 The CORCL is a 28 lb, round, polyethylene boat for ages eight and up designed for use with a kayak paddle to move easily forward, backward, or in circles through the water. In a nod to the ancient circular vessels used in cultures worldwide to transport, fish and navigate low-depth waterways, the CORCL was created for users 225 lbs or less to sit, kneel, stand, use the boat right-side up or upside down, or play games and race. CORCLs can be found in hundreds of summer camps, campgrounds and parks throughout the U.S. and Canada. More information is available on our CORCL product page.
The CORCL Boats' design team will go to Essen, Germany in July to claim their prize and see the CORCL on exhibition at the Red Dot Design Museum Essen with all the award-winning innovations. At that time, the CORCL will appear in the Red Dot Design Yearbook 2018/2019, alongside the Online Exhibition, on the Red Dot App and on Red Dot 21.

The Red Dot Design Award was founded in 1955 to appraise the best products of the year from all over the world and to honor a select group of products that significantly stand out for having exceptional design. A Red Dot award is a revered international seal of outstanding design quality. More information is available at https://www.red-dot.de/