Wautoma, WI – Commercial Recreation Specialists (CRS), Vortex Aquatic Structures and the Wautoma Rotary Club completed installation of a 3,541-square-foot, flow-through Splashpad in Bird Creek Park in Wautoma, WI, in July, according to Ron Romens, president of Commercial Recreation Specialists. CRS provided design and technical consulting services, supplied water features manufactured by Vortex Aquatic Structures and assisted with installation. The Wautoma Rotary Club funded the $250,000 dollar project, managed construction and, upon completion, donated the facility to the city of Wautoma.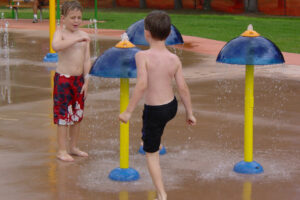 "The club received a donation over fifteen years ago for a swimming pool, but nothing had been built yet," said Tim Freudenthal, president of the Wautoma Rotary Club.  He continued, "With input from Wautoma residents, we decided a Splashpad would better serve the community."  According to Romens, "A Splashpad is ideal for a park setting because it has zero standing water, which means no lifeguards are required, and minimal maintenance costs."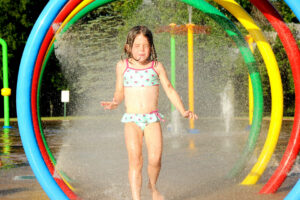 "The partners of this project truly worked as  a team to create this amazing addition for our community and provided an opportunity to  boost the local economy through increased tourist traffic," said Wautoma Mayor Jim Blaszczyk. The Splashpad at Bird Creek Park has a capacity of over 100 and includes three Splash Bays, appealing to a multi-generational audience through age-appropriate design elements. Areas of play include Discovery Bay  for small children with a soft Water Jelly Spray; Adventure Bay for older children including the colorful WaterQuest feature; and Action Bay  for competitive play and an interactive Soak Station.