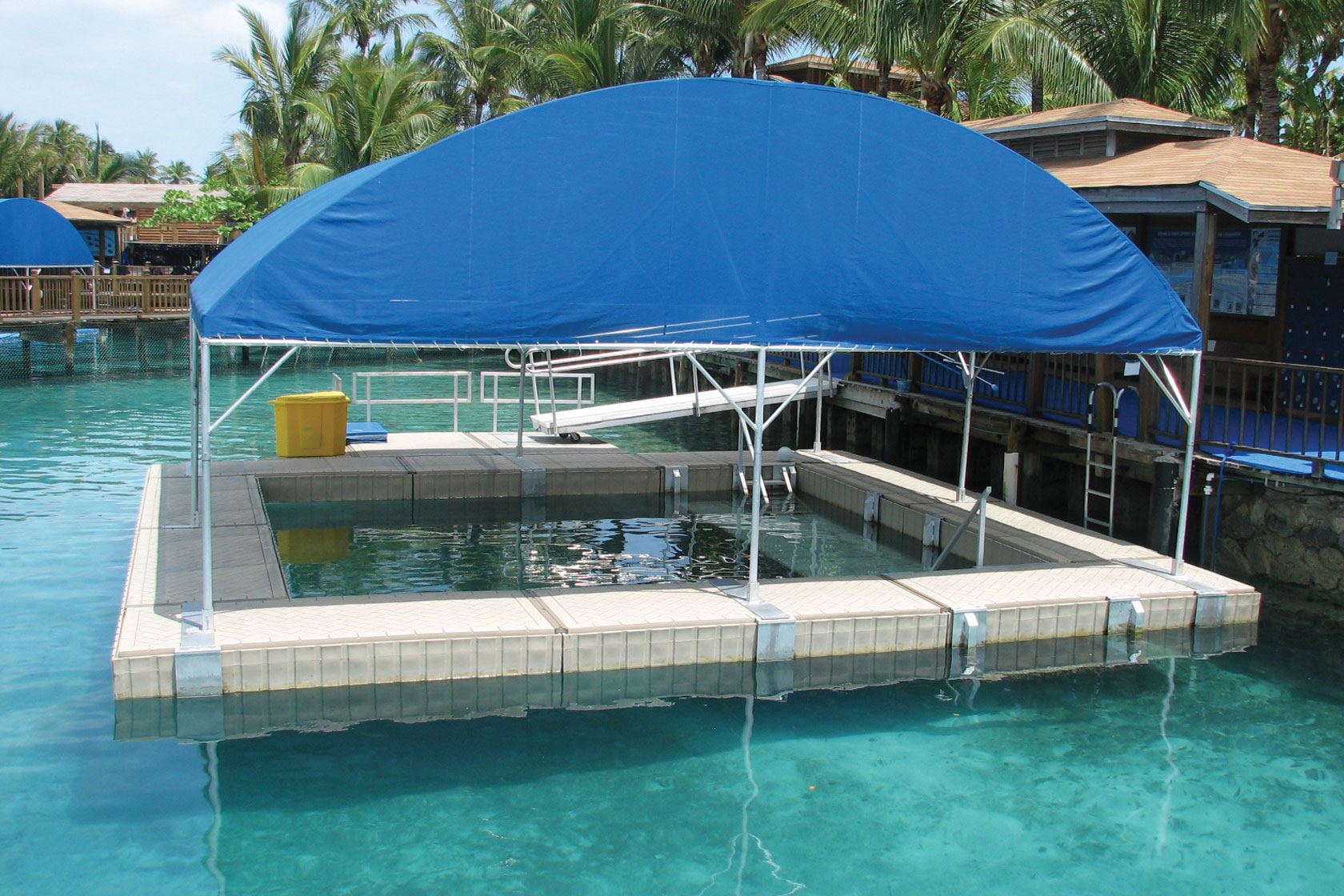 Verona, WI – Commercial Recreation Specialists (CRS) provided site assessment, consulting and design services as part of the  2007 completion of a new dock system and installation of an early warning lightning detection system for Dolphin Encounters, located on Blue Lagoon Island, off Nassau, Bahamas, according to Rich Wills, vice-president of Commercial Recreation Specialists.  Existing wooden docks were replaced with a custom-designed, floating dock system.  "This durable, flexible, Polydock system is able to move with tidal changes and is also modular, so it can easily be reconfigured to meet the changing needs of the facility," said Wills.
"CRS coordinated design and fabrication of many custom elements to meet Dolphin Encounters' specific needs, including submerged platforms, stairs, shade structures, screens and floating gangways," said Dolphin Encounters TITLE Annette Dempsey.  "After a thorough site assessment and business goals review, we were able to work with the client to create a customized solution to meet Dolphin Encounters' unique requirements.  The low-profile design allows guests and staff to conveniently interact with dolphins, sea lions and other marine life; it also provides an opportunity for a wider group of guests to enjoy the experience, including those with limited mobility," said Wills.
The site assessment also included a complete safety and risk evaluation which resulted in the recommendation of a Strike Guard early warning lightning detection system, manufactured by Wxline.  Strike Guard detects and monitors lightning strikes up to twenty miles away and guarantees zero false alarms because it does not use electromagnetic fields.  This system ensures guest safety by automatically determining alarm and all-clear conditions, avoiding panic situations and difficult decisions for the management team about what is considered safe.  According to Wills, when a standardized lightning safety policy is combined with investment in an early warning lightning detection system, insurance premiums are often reduced for marine parks, zoos and amusement parks and other commercial recreation venues.
Dolphin Encounters began in 1989 as a dolphin rescue project with two dolphins and three employees and has become one of Nassau's foremost tourist attractions with seventeen dolphins and over 130 dedicated staff.  It is located on Salt Cay (Blue Lagoon Island), only 3 miles from Nassau, Bahamas.  Dolphin Encounters Ltd. is a member of IMATA, the International Marine Animal Trainers Association and is also a member of the Alliance of Marine Mammal Parks and Aquariums.