In the August 2018 issue of Woodall's Campground Management magazine, Jeff Crider and Ben Quiggle have an exciting piece about how campgrounds are investing in water features and seeing results. In this article Quiggle spoke directly with our own Shannon Brower about trends towards incorporating more active recreation in campgrounds and RV parks for enhanced guest experience. You can see the original story by reading below of clicking on the magazine cover image:
When Victor and Jessica King opened Lake George RV Park in Lake George, N.Y., in 1966, it was promoted as one of the most modern campgrounds in the U.S. Each of its then 200-plus campsites had 30-amp electric connections, water and sewer service, which was almost unheard of, according to David King, who spoke with Woodall's Campground Management (WCM).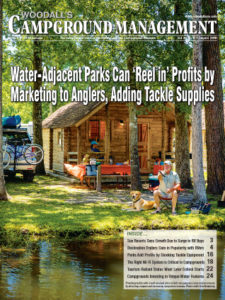 "We've always tried to create a camping environment that was ahead of the industry," said King, the park's second-generation owner. Lake George RV Park has continued to develop new amenities, activities and entertainment, including live music, animal and reptile shows, nature workshops and performances by magicians, hypnotists and illusionists.
But the King family's latest addition could be its biggest yet — a $5 million aquatic park called Cascade Cove, which opens this summer. King said he has been rushing to complete it this year as a way to celebrate what would be the 100th birthday of his father, who died six years ago.
Cascade Cove will feature a zero-entry swimming pool, with a gradual slope from the deck to the water; hot tub clusters that can seat up to 38; and a water play area, with 32 interactive spray features, a dumping bucket and a 34-foot-long enclosed, twisting slide. King said guests repeatedly have asked him to install new water features to replace some of the park's three existing aquatic areas, which were built between 1966 and 1976.
That trend is visible across North America as consumers seek campgrounds with special water features. Overall, relatively few public and private campgrounds offer such perks, but a growing number are installing everything from spray grounds to aquatic play structures to water slides.
Campgrounds are seeing the benefits of such investments.
Read the full article at Woodall's Campground Management.