Many cities and towns have community pools that are underutilized by resident families with young children that can't swim. This leaves community leaders looking for new ways to redevelop these valuable assets to better serve the needs of the entire family.
Below is a story how one township revamped an existing wading pool to find a cost-effective solution to bring a new level of aquatic play to a valuable community asset. Check out how the Township of Morris found a solution to create a more fun and engaging aquatic experience for all its residents.
A New Way to Splash at the Pool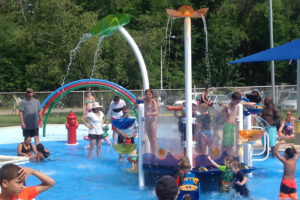 The Township of Morris, New Jersey knew that their community pool needed repairs. As part of a complete renovation project, the township wanted to convert their existing wading pool into an activity pool that would provide more interaction and excitement to the residents who use the pool. Local officials and their design team looked to Commercial Recreation Specialists (CRS) to help create a more interactive, engaging space that would bring the aquatic play at Ginty Pool to another level.
The township worked with CRS to create a zero-entry wading pool that incorporated a variety of Splashpad elements. With the incorporation of rainbow arches and a Vortex Elevations play unit, CRS added an extra dimension to the wading pool to offer a multi-level adventure that created a more stimulating environment and brought the fun to the next level, literally.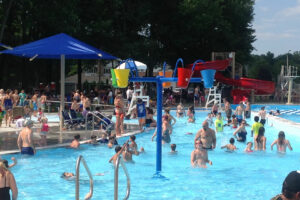 CRS also worked to add more excitement to the main pool with the addition of water dumping buckets in the shallow end. With the combination of water flows, mists, jets and sprinkling effects, these additions to Ginty Pool have helped to revitalize this valuable community amenity so that residents can come together to experience the joy of water play while engaging with one another.
The new activity pool uses a Vortex command center with a manifold to create unique water sequencing events and timing to the various elements to ensure a fresh aquatic experience.
See an Activity Pool In Action